Counter IED Training Range Infrastructure
Counter IED Training Ranges are the ultimate training infrastructure, for getting trained in Counter IED tactics, drills and procedures in a near real environment.
We develop ranges, specifically based on:                                              
The actual geographical area of operation
Type of Terrorist / Insurgent Threat
Types of IEDs encountered
We develop customized ranged, based on our extensive experience in conducting counter IED operations. The ranges are modular and easily upgradeable to keep current with changing conditions.
Our esteemed customers include:
College of Military Engineering, Pune
Engineers Regimental Centers (BEG, Kirkee and Roorkee)
Many Infantry Regimental Centers
Almost all Bomb Disposal Companies
Special Investigation Department of Maharashtra Police
Bangalore Police
CRPF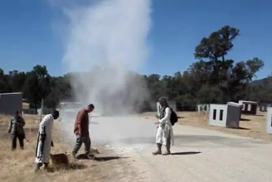 Suggested Implementation of a Counter IED Range
 (The range can be designed as per user requirement)
Outdoor Training Range with RF Wireless based Mechanisms and Simulated Blast
Infra red switch-IR Barrier, at the entrance gate of an IED range
Magnetic switch-GI pipe Barrier
Vibration switch-Door of sentry post
Pressure switch-Fitted with M-14 anti-personnel mines
Metal proxy switch-Spread on road (4nos)
Pressure switch-Implemented on bridge
Pull switch-Strap of bag hung on tree
Solar switch-Rocket launcher wired with solar switch
Trip wire-laid across the path
Touch switch-Gift box kept at Dhaba
Pressure Cooker -At Dhaba
Gas cylinder (static)-At Dhaba
Command switch-Radio- at bus stand
Release switch-Brief case- at bus stand
Light switch-Under the Cement pipe
Mech Timer-Conventional Mech Timer
Electronic Timer-Kept at roadside
P T D-Kept at roadside
R C I E D-Kept at roadside
Command switch-Pipe Bomb
Collapsible relay-Helmet
Tilt switch-Water Bottle
Release switch-Mannequin
IR proximity-Post box
Armature switch-Cycle
Sound switch-Flower pot in House
Mobile switch-Mobile in House
Flash Operated-In House
Laser switch-Across the door
Temp switch-With lantern in the House
Magnetic switch-Box
Water drain level-Water Hamper
Metal proximity switch-Tiffin box
Pressure switch-With chair in the House
Main Console with RF Receiver, decoder -12 V Battery with charger, Blast sound generator, RF receiver
Solar based charging system-PV panels and charge controllers