MINE FIELD LAYING / BREACHING / RECOVERY SIMULATOR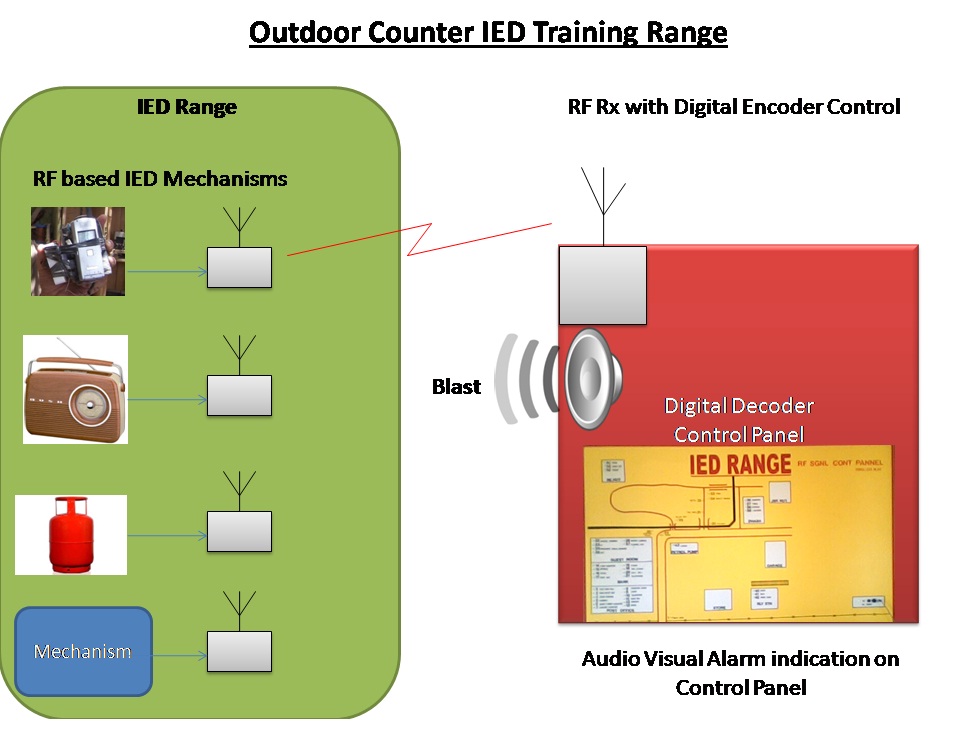 Features: 
RF Wireless based Mechanisms with Audio and Simulated Blast:

Allows Mines to be shifted around for each exercise.
Makes training realistic.

Variable Mine Emplacement: Mines can be shifted around, so that each exercise is "new".
Control Room, with Control Panel: With real time view of Mines and mine blasts.
Mine Breaching Exercise Sets: Equipment is provided in sets:

Laying Party equipment: Mines (with RF Transmitters) and Mine Laying equipment (dummy mines are provided by the user).
Breaching Party equipment.

Solar based battery charging and power supply for Control panel can be provided.

Advantages:

Comprehensive Training: on all possible Mine Laying / Breaching / Recovery Scenarios:

Mine Laying
Minefield Recovery.
Minefield Breaching.
Making an ISL / VSL.

Training Flexibility: Due to flexible infrastructure provided.
Training Realism.
Exercise Monitoring and Control: Through the Control Panel and Control Room.

All models work on 9V battery, output indication by buzzer & high bright flashing LED lamp.
RF signal transmitters trigger main console to produce 'BLAST' sound & LED indication.
RF system operates at 433 MHz range with digital modulation/demodulation & max range 100 mtrs.