ROVs WITH SEAMLESS POSSIBILITIES
SAVIOR I, II and III are Remotely Operated Vehicles (ROVs) which can undertake multiple missions to scan, locate and destroy hazardous objects safely.
Portable and fully loaded SAVIOR ROVs can enter areas that are inaccessible or too dangerous for people, providing state of the art technology for Security Forces, Paramilitary Forces and Law Enforcing Agency in Counter Insurgency Operation
Built on diversely configurable versatile chassis it can be quickly configured based on the needs of the mission such as bomb detection, reconnaissance, search and other hazardous tasks.
Dexterous and simple 'gaming' type controller which can be used with almost no training.
Designed and manufactured by Navyug Infosolutions with features specific to Indian conditions and scope for further customization.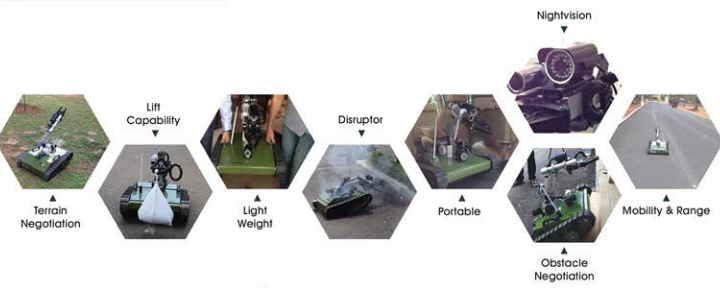 3-4 hours upto 400m LOS operation
Cross country speed upto 5 km/hr
Multiple Night vision cameras
Water gun disruptor
Stair climbing
Digging soft soil
Transportable in a car
100% indigenous product